We've built our VPS hosting infrastructure on top of enterprise-grade hardware and highly available, redundant networks. We'll take care of speed and reliability so you can focus on building amazing experiences on the SSD Nodes cloud.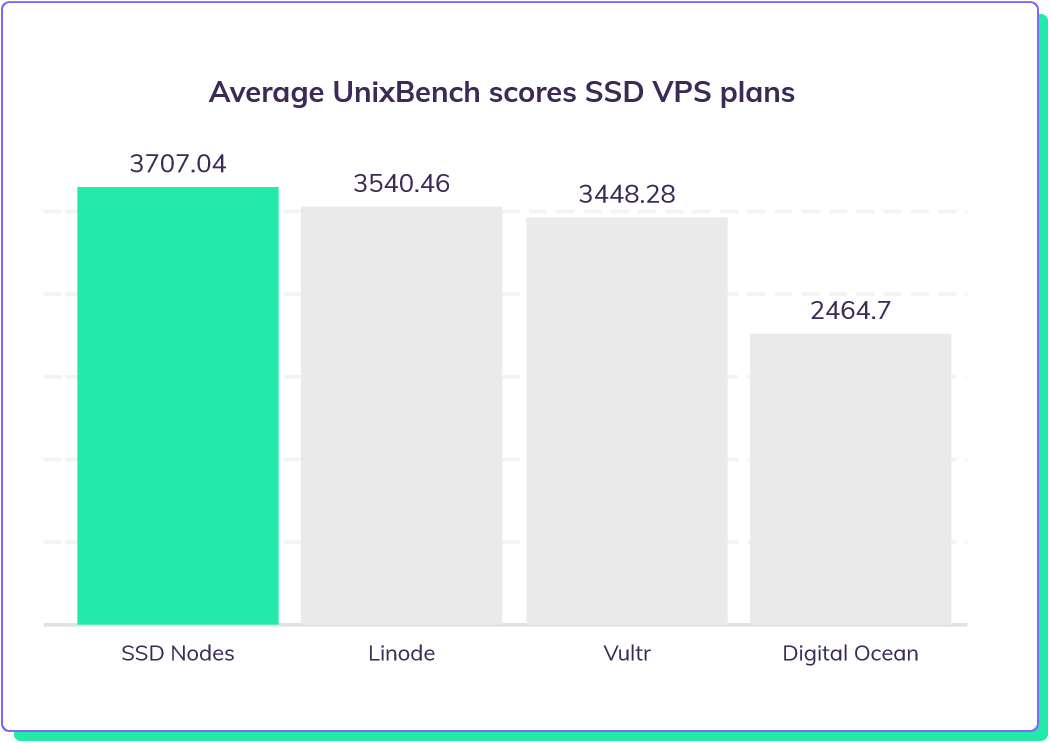 Doing the impossible: High performance at honest value
We were the first full-SSD VPS hosting provider when we began in 2011, and we've been committed to performance ever since. Our UnixBench scores surpass those of our largest competitors, but you'll also pay far less for the speed. It's all thanks to our incredible engineers and their relentless focus on a lean infrastructure. Finally, get honest value VPS hosting.
KVM hypervisor
Unlike shared hosting, KVM is optimized to isolate your resources from neighbors and offer significant "burst" capacity when you need it.
Speed boost
Key kernel optimizations unleash 40% more performance from your server compared to KVM implementations found elsewhere.
Up to 10x RAM per dollar
Linode: 16GB RAM @ $80/mo
SSD Nodes: 16GB RAM @ $5/mo
Up to 4x SSD disk per dollar
Vultr: 320GB disk @ $80/mo
SSD Nodes: 400GB disk @ $7/mo
Up to 13x transfer per dollar
DigitalOcean: 6TB transfer @ $96/mo
SSD Nodes: 8TB transfer @ $5/mo
How do we do it?
Let's take an unprecedented look inside our VPS hosting infrastructure.
Built on a foundation of incredible hardware
Intel E5/Gold processors
All SSD Nodes servers use the latest enterprise Intel processor architecture, with dozens of cores and a fast turbo-boosted clock, to help you build amazing things on the web.
RAID 10 configuration
SSD Nodes stripes and mirrors your data to both improve performance and establish redundancy in case of hardware failure or corruption. Get the best of both worlds.
Full solid state (SSD) cloud
Dramatically reduce page load times by hosting your dynamic websites on the 8x 2TB enterprise-grade SSDs that hum along inside each host server.
Enterprise-grade RAM
Run critical applications on our host nodes' 1TB of DDR-4 ECC RAM for peak performance. It's easier than ever to avoid using swap because we offer the most RAM for every dollar you spend.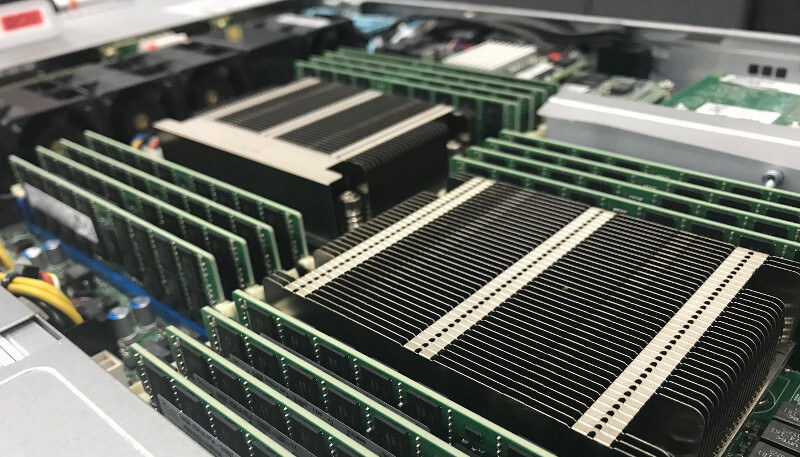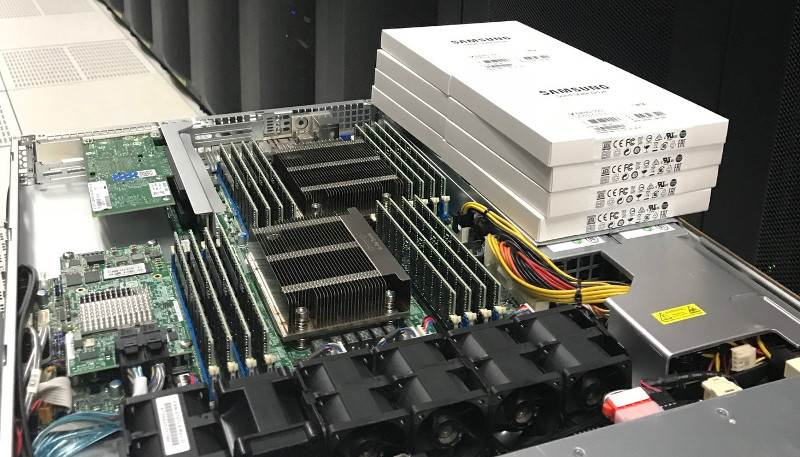 We've used SSD Nodes services for several years—their hosting facilities are stable and reliable. Along with quick and professional tech support, it makes our use of their services a pleasant experience.
Intelligent, redundant, and highly secure data centers
600kVA Liebert UPSs
These uninterruptible power systems (UPS) leverage double conversion technology to correct fluctuations, deliver high-quality power output, and keep your server online.
2MW Cummins generators
If power fails at the utility level, 7,000 gallons of on-site fuel will keep the data center running smoothly. The diesel generators provide 2x the necessary power for additional redundancy.
30-ton Liebert coolers
Host nodes are kept at optimum operating temperatures thanks to 12 air-cooled units. The N+2 configuration ensures plenty of redundant cooling even in the rare case of hardware failure.
Dual PSUs with A+B power
Each host node is equipped with dual PSUs for easy hot-swapping, without downtime, in case of hardware failure. A+B power reduces reliance on a single point of potential failure.
Fire prevention system
The double-interlock system uses dry pipes to prevent leaks or inadvertent sprinkler firing, while the pre-action ensures that when a real fire event is detected, potential damage to host nodes is mitigated instantly.
Transient Voltage Surge Suppression
The TVSS mitigates any fluctuations in power and is capable of completely mitigating the effects of nearby lightning, eliminating the threat of downtime in harsh weather.
Deploy on SSD Nodes for 90% less than the competition.
Incredible hardware, infrastructure, and networking at an even more incredible price.
A resilient enterprise network for highly-available websites, blogs, and apps

No matter how you're using your VPS, our network will keep your services running smoothly and quickly.
We begin with 10GigE networking interfaces for fast ingress/egress of traffic from our host nodes, through the data center, and into our internal enterprise network.
2,000Gbps of connectivity between our data centers and 300+ PoPs (points of presence) located around the world delivers traffic through dedicated pipelines.
Partnerships with 12 leading global network providers, multiple peering links, and redundant fiber connections deliver traffic to its destination quickly and reliably.
12x network providers
Redundant network partnerships, including 8x Tier-1 network service providers, minimize latency by reducing the number of backbone-level hops traffic takes between your VPS and your users.
Redundant fiber connections
We've prepared for anything. Even if an errant backhoe clips one of our fiberoptic backbone connections, a failsafe infrastructure ensures your VPS stays connected.
300+ PoPs
Geographically diverse PoPs provide seamless, direct, private, and high-speed access to our backbone network, bringing connectivity closer to your users.
Our networking/bandwidth partners:


Yes, our refund guarantee is a feature.
14-day refund  
We offer Customers who have purchased a VPS/Cloud Hosting Services package a 14-day window refund window in which you can cancel your VPS/Cloud Hosting Services package at no cost, and wish you the best in finding the perfect hosting solution for all your needs.
Many other hosts refuse to offer refunds and those who do often close the window after 24 hours. We do things differently. We want you to stick around because you love what we do, not because you're locked in.
SSD Nodes credit  
If you're outside the 14-day refund window, we'll happily give you SSD Nodes credit.
Following your cancelation notice, we'll credit you for every day you have remaining in your services agreement. Your credit will never expire, and you can use it for any of our services in the future. By offering credit, we always aim to give you your money's worth, whether that's six months or six years from now.
Of course, we would much rather help you work through your issues! If you're thinking about canceling, please give our friendly support people a shout to see how they can help.
Deploy on this platform of incredible hardware, infrastructure, and network in 90 seconds!
Zero-downtime upgrades
You don't always plan for being featured on the front page of Hacker News or Product Hunt. When your website, blog, or web app gains traction, you want to be able to respond instantly and without a second of downtime. Other providers force you to contact support and set up a time to shut down your servers to upgrade them—not great when you're trying to keep your services running and convert users.
With SSD Nodes, you can stop planning for downtime and get back to growing. Our thin virtualization platform allows you to scale instantly to up to 32GB of RAM. Just make the change in your dashboard and you've scaled to new heights.
We put full control in your hands
A feature-rich dashboard
Our recently-refreshed UI is both easy to use and a usability dream for power users with dozens of concurrently-running servers.
Support for ∞ applications
Operate high-density web servers, complex databases, private development servers, big data analytics, and more.
Root administrator access
Dramatically reduce page load times by hosting your dynamic websites on the 8x 2TB enterprise-grade SSDs that hum along inside each host server.
One-click administration
Start, stop, and reboot your servers easily from our dashboard. Get all the information you need in one place.
Two-factor authentication
Give your SSD Nodes account a second, active layer of security, keeping your servers protected against would-be intruders.
Superior OS options
Built-in support for Ubuntu, Debian, and CentOS, the most popular and most secure Linux operating systems.
Real-time status monitoring
Get instant insight into your VPS status from our dashboard—no installation necessary.
Online console
In emergencies, access our dashbord's online console to administer your VPS and get things sorted straight away.
And we give you plenty of resources to start building your next big thing
Serverwise
We post multiple times per week to ensure you have the latest thoughts and knowledge on Linux administration, Docker, self-hosting, SSL, and much more. Get server wise.
Visit Serverwise →
Tutorials
The tutorials section of Serverwise contains dozens of instructional guides that walk you through both simple Linux tips and complex infrastructure deployments.
Visit our tutorials →
Featured tutorial: Hosting 'infinite' SSL-enabled websites with Docker and Nginx
In our most popular tutorial, learn how to leverage an Nginx reverse proxy, Docker, and Let's Encrypt to deploy a variety of apps and services on your VPS.
Visit the tutorial →
VPS Comparison 2018: Vultr vs. Digital Ocean vs. Linode vs. SSD Nodes
Want to see how SSD Nodes stacks up against other VPS hosting providers when it comes to value per dollar? We don't shy away from taking on the biggest competition.
Visit the comparison →
The self-hosting handbook:
Stop spending your hard-earned cash on dozens of apps and start self-hosting. Use Docker, a reverse proxy, and Let's Encrypt to host your own free alternatives to GitHub, Slack, Feedly, and many others. Make the most of your VPS hosting investment and expand to your heart's content.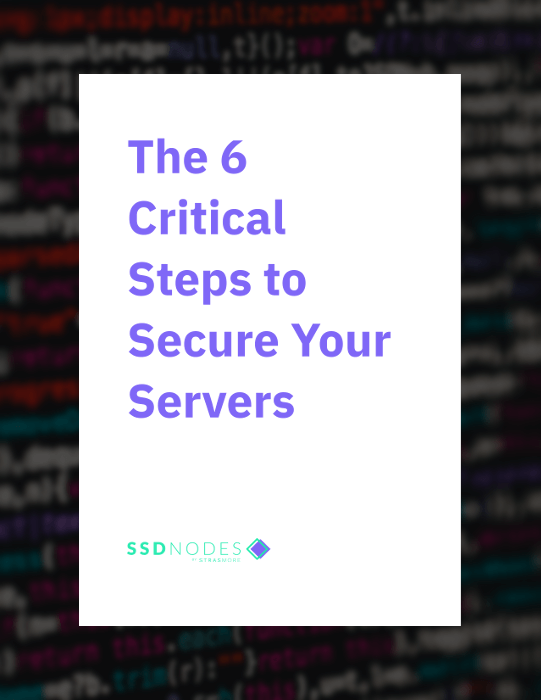 Stop attackers from probing your server with six easy-to-implement VPS security improvements. Download the eBook now!
Ready to build something amazing on the SSD Nodes platform?